Introduction:
Singapore saw the return of Women's Football this year as the Deloitte Women's Premier League kicked off on Saturday, 28th of May 2022. Playing a part in promoting women in sports in the local scene, a Women's Team was established this year by Japanese football club, Albirex Niigata FC (S). A historic milestone for Women's Football and the club, we caught up with three of the pioneer members of the women's wing at Albirex. We had the opportunity to interview Tina (Team Captain, Forward), Emilia (Defender) and Nadhra (Midfielder), and we are really excited to share more about their journey in and hopes for Women's Football in Singapore.

[J+PLUS]
Hi and thank you for coming today! To start, could you please introduce yourself?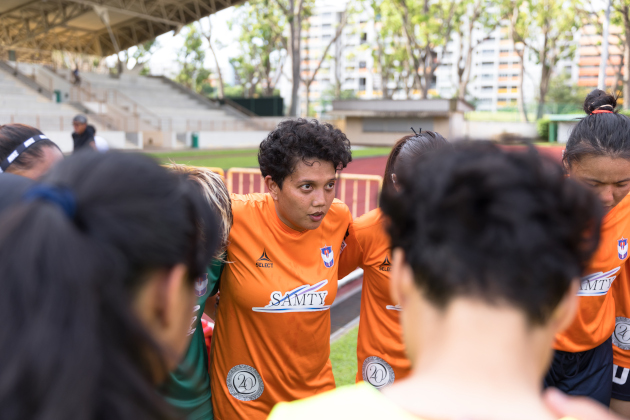 [Tina]
Hi, my name is Tina and I'm the captain of Albirex Women's Team. I started to play football when I was about 8 years old with kids under the void deck. I took soccer more seriously when I was about 16-17 years old with my first club Home United FC. Besides football, I also enjoy practicing martial arts, travelling and cooking.

[Emilia]
Hello, I'm Emilia Natasha and I started playing football since I was 3 or 4 years old, following both my brother and dad's footsteps. Apart from playing football, I enjoy baking cakes for my family and friends on my off-days!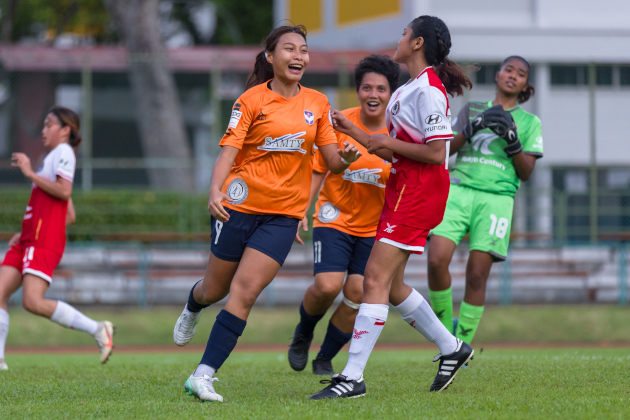 [Nadhra]
Hi, I'm Nadhra Aqilah. I am turning 28 and I am currently working at Deloitte & Touche as an Executive in the Clients & Markets Department while playing football on the side! Truth be told, playing football wasn't in my plans at all, but that's a really long story of how I got here.

[J+Plus]
That's alright! Please tell us, how did you get into the sport?
[Nadhra]
It was actually a happy coincidence that happened to me when I was 24. At that time, I was interning at a company and part of my work needed me to be a games and sports facilitator. We had to facilitate these activities for companies who wanted to organize Team Bonding sessions for their staff.
As a facilitator, we had to be loud, out-spoken and very enthusiastic. I remember the day very vividly. The session I was conducting was held at the Premier Pitch at Turf City, where many football academies were having their sessions as well. An hour into my facilitator session, I saw a big, tall and, quite frankly, bulky football Coach walking towards me, and he asked "Would you like to coach for my Football Academy?" And that's pretty much how it began.
But an interesting fact, I didn't know that Women's football even existed in Singapore until the same Coach asked me to join a club. So I took a leap, found a club to join and went for a trial, with no prior experience for football whatsoever. That was basically how I realised this happy coincidence became something I have always wanted since my younger days but didn't get.

[J+PLUS]
Thank you very much. Especially Nadhra, that's quite an interesting story that you have shared. Now that you're in Albirex, how excited are you to launch the Albirex Women's team, and to join the team?

[Nadhra]
To be a part of the "pioneer" batch of Albirex Women's Team, I am very grateful and honoured.
I can't wait to don the Albirex colours and represent them with pride, as well as seeing our fans and supporters cheering us from the stands!

[J+PLUS]
Yes, I also can't wait to see the team playing! How about Tina and Emilia?

[Tina]
Yes, I'm very excited. I am eager as this will be my first collaboration with a Japanese team and of course I'm very ecstatic to be in the team.

[Emilia]
I'm also very excited about the launch and I'm very honoured to join the Albirex Women's Team as Albirex is one of the most respected and well-known clubs in Singapore. To me, the launch of our official kits really sealed it in that we are making our debut soon, and I am very thankful for this opportunity to play for Albirex. I'm looking forward to what's in store for us ahead!

[J+PLUS]
On that note, how do you think we can improve on raising awareness about women's football in Singapore?

[Emilia]
There needs to be more campaigns, more stories and news published as a team or getting individual players to share their stories to inspire others.
[Tina]
We need to let the society know and realise we do have potential as women players, and we also have to get the right and proper support and sponsorships to keep the scene going.
[Nadhra]
As long as everyone works hand in hand, I'm sure this can be achieved with continuous growth and improvement. That includes all the players, coaches, stakeholders, sponsors as well as the media.
As for the players, I believe the best that we can do is to provide our utmost best in the game so that everyone can see that women's football has great potential and is going places. We also need to remember to always give back to the community, inspiring the younger ones who wish to follow our path.
Most importantly, to always remember to improve our craft on the field, so that everyone sees our worth.

[J+PLUS]
I see, I hope your season will be great as re-step of Singapore women's football.
Lastly please share your target of this year!

[Tina]
As a team and individual, I would like to bring our team to the Top 3.
[Emilia]
To be able to play as a team positively, no matter the results, and to build great chemistry with my teammates.
[Nadhra]
For me, leading the team well would be one of my main goals. Having a role in the team gives a lot of pressure, but handling it well and correctly would be a satisfying feeling. As for my performance, I wish to make sure that I bring my best every time I step onto the field, not forgetting about being on the scoresheet too!
And for a newly formed team, results alone should not be our main priority. Rather, working together on & off the field, building chemistry and growing towards continuous improvement would make this a memorable season. Finishing in the Top 3 would be an extra bonus! And also, no YELLOW CARDS!

[J+PLUS]
Thank you very much! And do you want to leave a message to Albirex fans and our readers?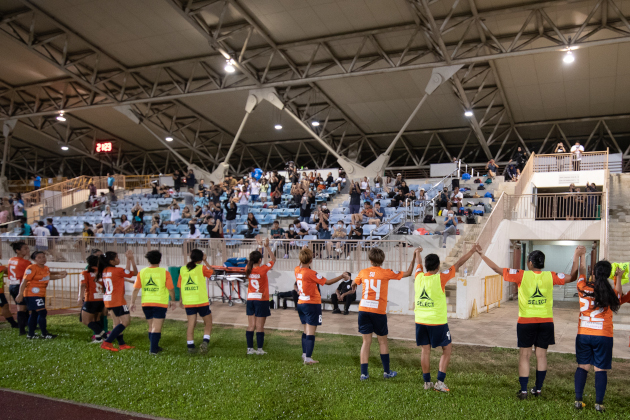 [Nadhra]
Kon'nichiwa!
Come catch me & the rest of the Albirex Ladies in the Women's Premier League.
We can't wait to be donning the Albirex colours. SEE YOU THERE!
[Emilia]
We appreciate all the support we have and we will do our best to not let anyone down! Do come and show us your support in orange as we march onto the field!
[Tina]
We are confident and optimistic that fans who support us will not be disappointed. We will soar together. Please support not only our team but also women's football, especially in Singapore.